Dear partners, supporters, friends, family, and loved ones,
We are so thankful for each one of you for the difference you are making to us personally as well as to the ministry. Together we can do it better, and in fact much of the work would not even be possible were it not for our united our efforts.

1. OUR SPIRITUAL MINISTRY RELATED NEWS
2. OUR PRACTICAL MINISTRY RELATED NEWS

We trust that you will enjoy seeing what you are an integral and invaluable part of. Together we are making a difference in the lives of many!

The photos below picture one of the highlights of this month! We did a united outreach with our Gracelife family, going out two by two. Within about an hour and a half 26 people had been led to receive Jesus as their Lord and Savoir. There is nothing more satisfying than to reach a soul for Jesus and see their eyes fill with light, and new hope. Thankfully we are also able to invite them to come and get their mind renewed, and experience a transformed life with the ability to live victoriously in a fallen world! And several of those we reached out to joined us the following day for our Sunday gathering.



OUTREACH: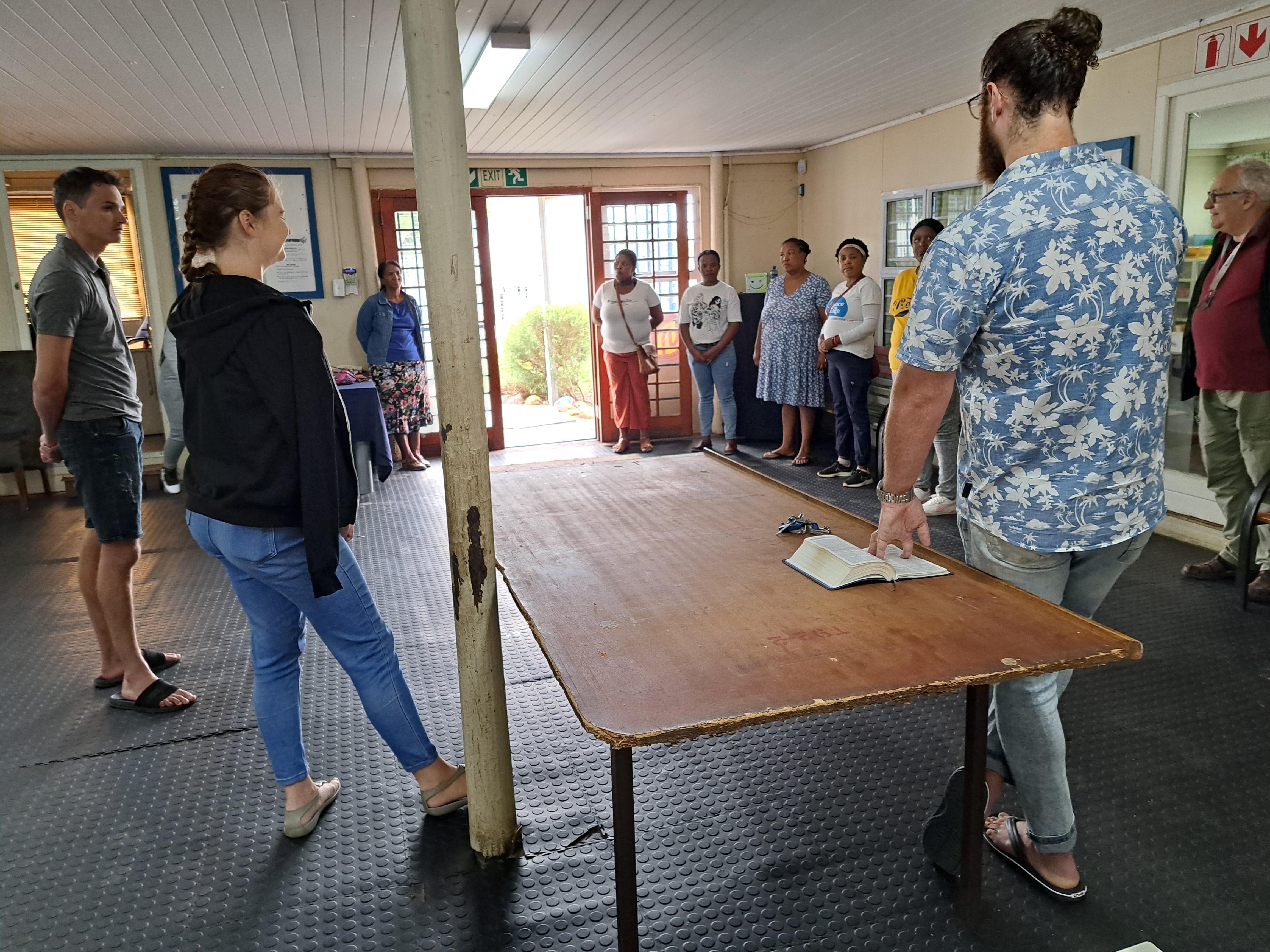 GRACELIFE:

Here Philip is teaching on: "The Most Important Commandment!" It also covered some of the laws of the Kingdom showing how God is not mysterious but actually is very reliable and that we can know what to expect. The picture below shows some a subsequent class Philip taught on the same subject!
Here we were having a follow-up meeting with some of the Sir Lowry's Pass leaders. Philip was expounding more on the subject mentioned above and having a question/answer session.
One of our inspiring times of worship. The children love to joins us for this time and we often end up singing and praising the Lord while dancing around.
BACK-TO-SCHOOL SUPPLIES:

We were asked to please help supply some of the very basic stationery needs for 100 of the the Sir Lowry's Pass children. Basic needs such as: a pencil each, a ruler, and eraser, a sharpener, a blue and a black pen each. Thank you so much to ALL of our partners who enabled us to respond positively!
S.A.HARVESTER:

We are very thankful to S.A. Harvester who on a regular basis are assisting us in helping soup kitchens and private families have their very basis needs, namely food, met. They are making s big difference !
The supplies are distributed in Gordon's Bay, Temperance Town, Sir Lowry's Pass and Nomzamo!
Angels' Kitchen, Sir Lowry's Pass, greatly appreciating the supplies, - and they eagerly help unload!
Angels' kitchen again receiving supplies. They made a delicious apricot jam for the children. They also faithfully ensure that all the vegetables are preserved—washed cleaned and frozen!
Here we are delivering supplies to Tom's Little Angels' ECD. They are located in the narrow back streets making it nearly impossible for us to drive through to them. Yet they are very needy and we have now arranged it so that they come out to the main street and carry the supplies back to their ECD center.
Joyce's Soup kitchen, which is the biggest in the village, receiving supplies!
Bright Stars, Nomazamo, which runs and ECD and a soup kitchen, are receiving supplies from SA Harvester as well!
SUPPLIES:
MILK:
100 liters of milk are collected (monthly) and distributed in Nomzamo and Sir Lowry's Pass!
WOOLWORTH:

Supplies donated by Woolworth. This is one of the largest pick-ups received in a long time, which by the way we have come to expect at the beginning of each new year. We are very thankful for this support! - And the flowers! :)
WEET-BIX:

We collected 14 large boxes of Weet-Bix which were distributed to ECD centers, and soup kitchens. As well as (package by package) to individual families!
OTHER:

And we were able to assist a single mother of five children living in Sir Lowry's Pass with an electric stove/oven. We learned that she did not have one for quite a awhile as the one she had before got stolen.
Besides this we also delivered a sleeping couch, a wooden desk and chair, as well as several office folders, clothing, etc, to the village.
BREAD AND PIZZA BASES:

We are very thankful to the company supplying these sacks of pizza bases and pre-sliced bread, and to the Lions' Club for including us as one of the distributers. These are distributed in approximately 10 different locations in Sir Lowry's Pass, as well as in Nomzamo. We are however not the only ones benefitting from this generous gift. Many other charities from other areas also come to collect for the people they are ministering to!
The following pictures give a small glimpse of some of the many recipients, however time and space fail to show it all!
JOYCE'S KITCHEN:



RACHEL'S KITCHEN:

This "bread" has come to be greatly appreciated and looked forward to by many people. We think especially by the children, as we often hear them, when driving through the village, chant, "Pizza, pizza, pizza!" Haha!
MILA'S KITCHEN:\
FRANSINA'S KITCHEN:

All the blue bags contain pizza bases or bread! And the photos are all taken in different places!
ELSIE'S KITCHEN:



EILEEN'S KITCHEN: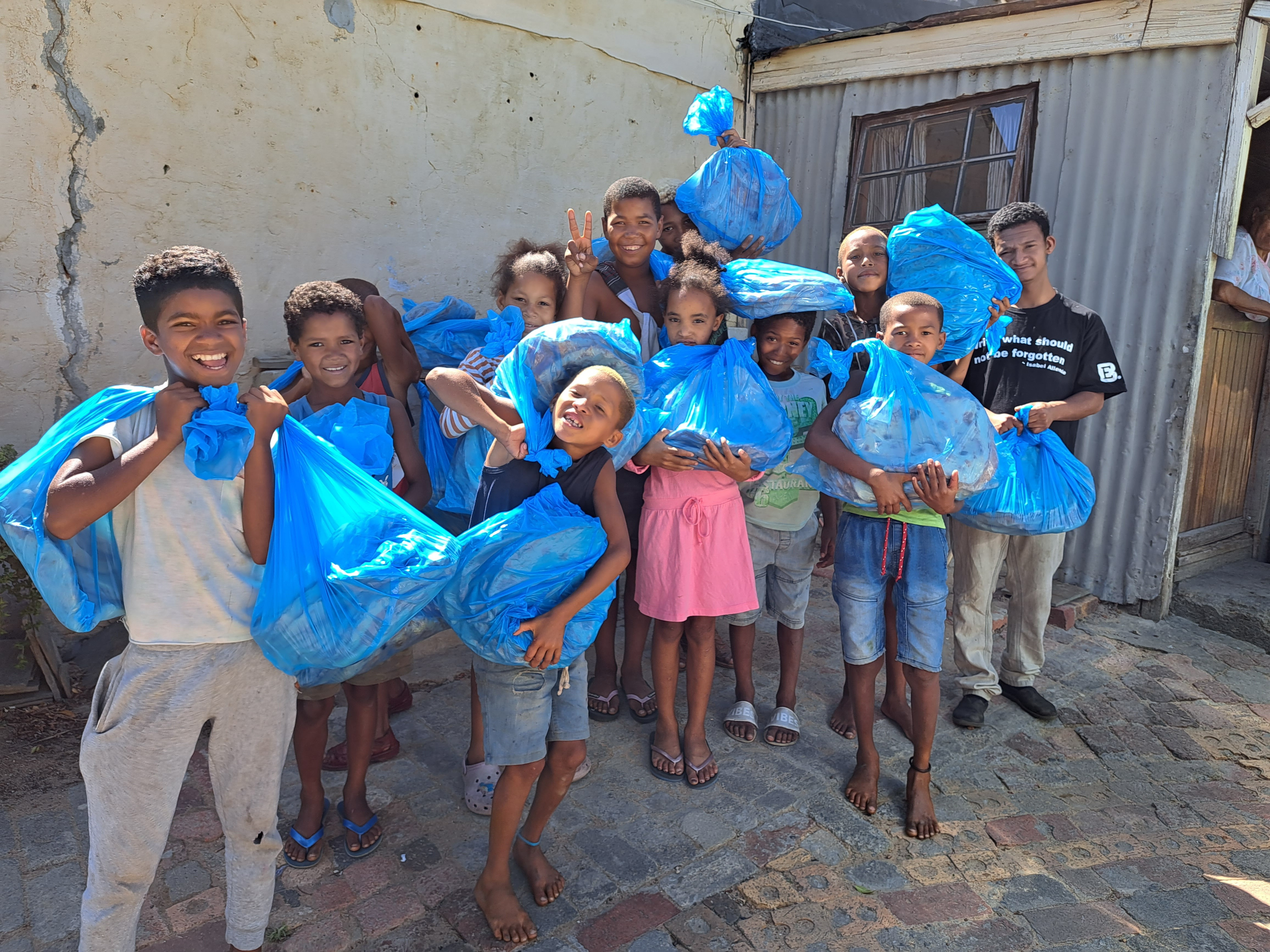 JESSICA'S KITCHEN:

Besides regular distribution to the above mentioned kitchens we also have 4 places where drop off pizza, after the kitchens have been assisted and we see there there is still enough, that act as small distribution centers for their immediate neighbors.
LIFE-GROUPS/BIBLE STUDIES:

Above: Our Bible study group in Nomzamo. Sadly our group got smaller this year as some workers had to be let go due to the lower number of children being enrolled for the new year. However we are happy to say that we are still in touch with those that are no longer present, via our daily devotional sent out via What's up!
There are many testimonies of people's lives being impacted by the Word of God and getting to know who He truly is.
The other day when teaching a Bible study in a shop in Gordon's Bay a client came in (the young adult daughter of the lady we were teaching was available to assist her). However, she quietly walked around and eventually approached us asking if this class was open for all? She said she overheard us sharing some testimonies and when we backed it up by Scripture she just felt drawn and the desire to join in. Needless to say we are thrilled by these "little" set up and how the Lord helps us be in the right place at the right time.
Meanwhile our new friend has started receiving the Daily Word as well and b=never fails to acknowledge that she has received and read it. —We are expecting great things this year and increased fruitfulness.
.In closing we want to THANK YOU for your time, interest and participation in our work. Together we are creating a better world and future for many.
If you would like to contact us and be a[ part of the work, please see our details below.
CONTACT DETAILS!
Antonios Michalitsis, FNB, Branch: 200912 Account no. : 62633037082
Rita Olsen, Nedbank, Branch Code: 114145 Account no.: 1043639810
PayPal:
force4good.ministries@gmail.com
For those of you that are abroad and would like to contribute, please be aware that besides PayPal, there is also the SEPA option as we have an account in Europe:
Rita Olsen
Danske Bank
Branch: 1551
Account: 3719943470
IBAN DK28 3000 3719 9434 70
SWIFT: DABADKKK
If you are new to our work and want to partner with us monthly, we invite you to contact us for further details. We look forward to hearing from you.