Dear Ones,
We are honored and very grateful for your partnership which is causing us to bear fruit for the Kingdom of God. We are seeing many lives transformed, and others are greatly encouraged, as they are seeing that the Lord is indeed sending people their way to show them His love and care.

OUTREACH:

We recently had a big outreach team in Sir Lowry's Pass going to some of the poorest backstreet areas where the housing is little more than a wooden shack. We spent a couple of hours and somewhere between 30-50 people received the Lord.
For those that did not have a church to go to we invited them to join us every Sunday. For others, we simply encouraged them to continue to grow in their relationship with the Lord and to remember that it is not what we can do for Him, but it's all about what He has already done for us!
We had an amazing weekend as 4 young people from another campus join us in our efforts to reach everyone in Sir Lowry's Pass. Not only were we more effective by having more feet on the ground, but working together like this was a great source of inspiration!
Many have heard of Jesus, but few truly understand how unconditionally loved they are by Him.
We try not to pass up any golden opportunities to preach the gospel. Here a group of children gathered around as we delivered milk to Nomzamo. We took this as an opportunity to explain the gospel to them and to lead them to the Lord!
LIFE-GROUPS:

Jesus not only said the preach to gospel, but to also make disciples of all nations. A disciple is a learner and here we are trying to commit the things we have heard among many witnesses to them also.
Somebody recently started bringing along a group of young children to our evening LifeGroup in Sir Lowry's Pass. Jesus said to let the children come unto Him and to not forbid them. We took the opportunity to lead them all to the Lord, and now try to stop in between to ensure that they catch at least some of what is being taught! They are all very well behaved and quite attentive. God bless them!
SUPPLIES:
Milk!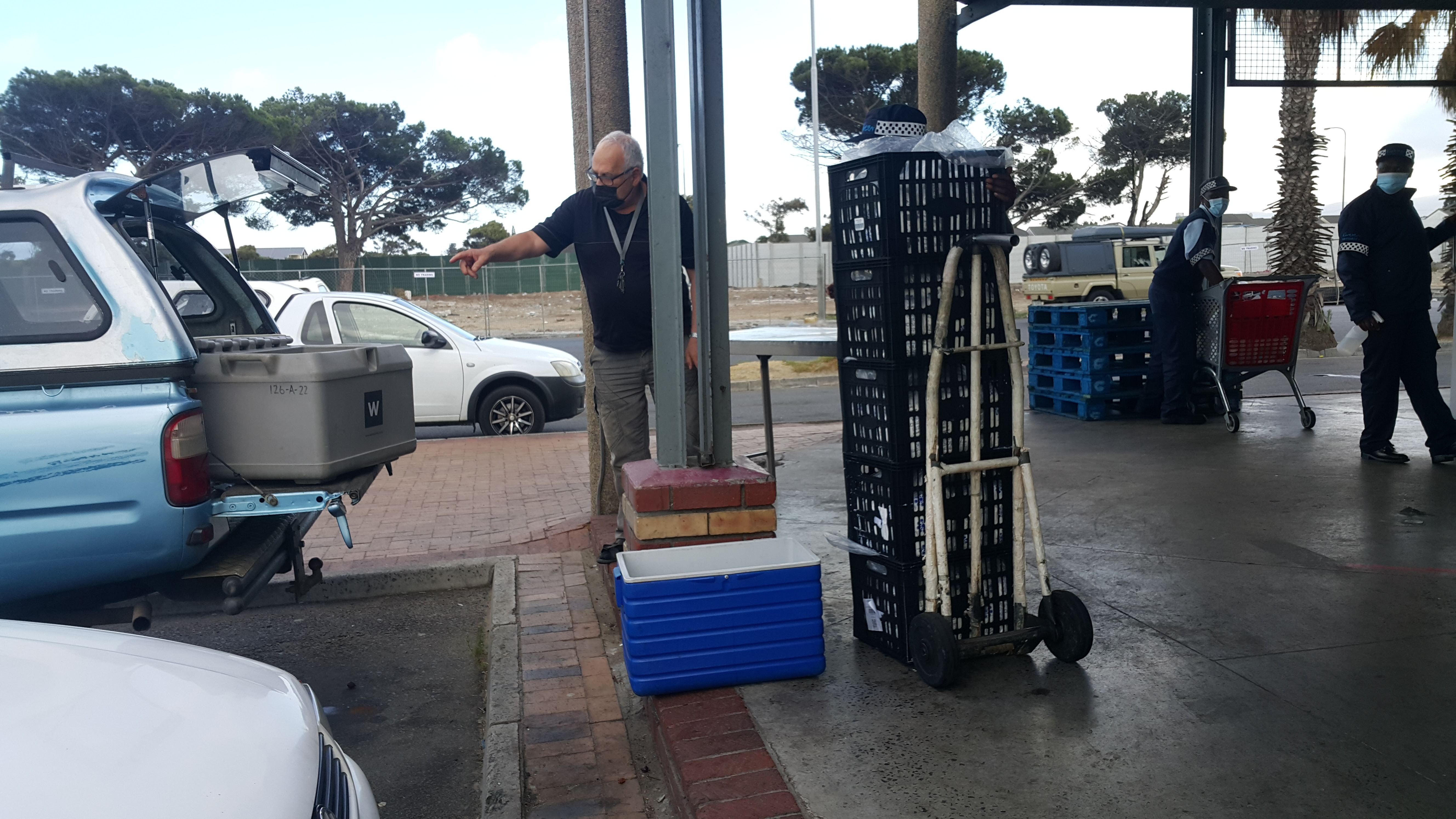 We collected and distributed 100 liters of milk in Nomzamo and Sir Lowry's Pass.
Weet-Bix!
14 large boxes of Weet-Bix were likewise collected and delivered.
Tables, bedding, etc!
We cleared out our garage and brought folding and plastic tables, bedding, and supplies of various kinds.
Bread and Pizza Bases!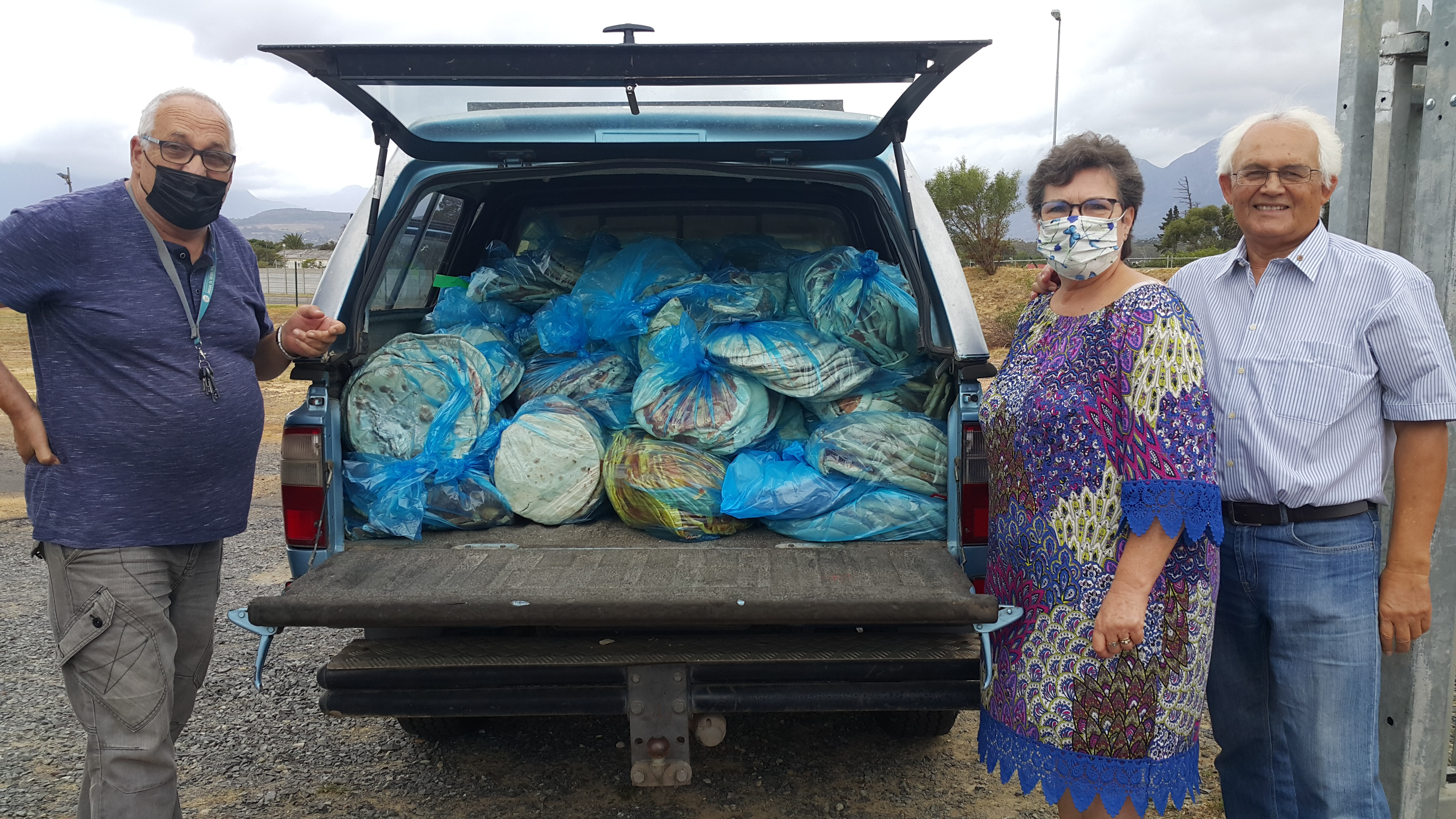 We are happy to be team working with the Lions' Club in Gordon's Bay and for their continued support.
Woolworth!
Woolworth has been supporting Joyce's Kitchen for several years now and recently increased their help!
BRIGHT SIGHT:

The Bright Sight project run by the Lions has been instrumental in several needy individuals getting glasses. They were either going without of using broken frames and outdated prescriptions. Many are now applying for assistance and the waiting list is growing. Thankfully most,, if not all, will eventually be assisted!
SHOES:

Via the Lions we also receive a generous amount of brown school shoes. Since the students are now wearing black shoes only these were distributed among the poor and were greatly appreciated as they came just before the cold weather set in.
OTHER SOUP KITCHENS BENEFITING:
Besides the two kitchens already mentioned that are at lest another 5 kitchens as well as several ECD centers and a "Food Bank" being assisted regularly with pizza bases and/or sliced bread donated by the Lions (THANK YOU!) and collected and distributed by us.
HELPING HAND:

We are very thankful for our missionary friends "Helping Hand" who, whenever they have surplus supplies of something, call us to come and collect for our charity work. — Part of the supplies were donated for the kitchen/ ECD center in Nomzamo. Seen here!
And the rest was donated to the Angels' Kitchen in Sir Lowry's Pass.
Toilet paper was also distributed to various other places such as soup kitchens, EDC centers, and individual needy families.

FOOD SHOPPING:
Bright Stars Nomzamo!

Seen here is part of a monthly shopping for the "Bright Stars' kitchen in Nomzamo.
This is the other part from the wholesaler. Also for the kitchen in Nomzamo.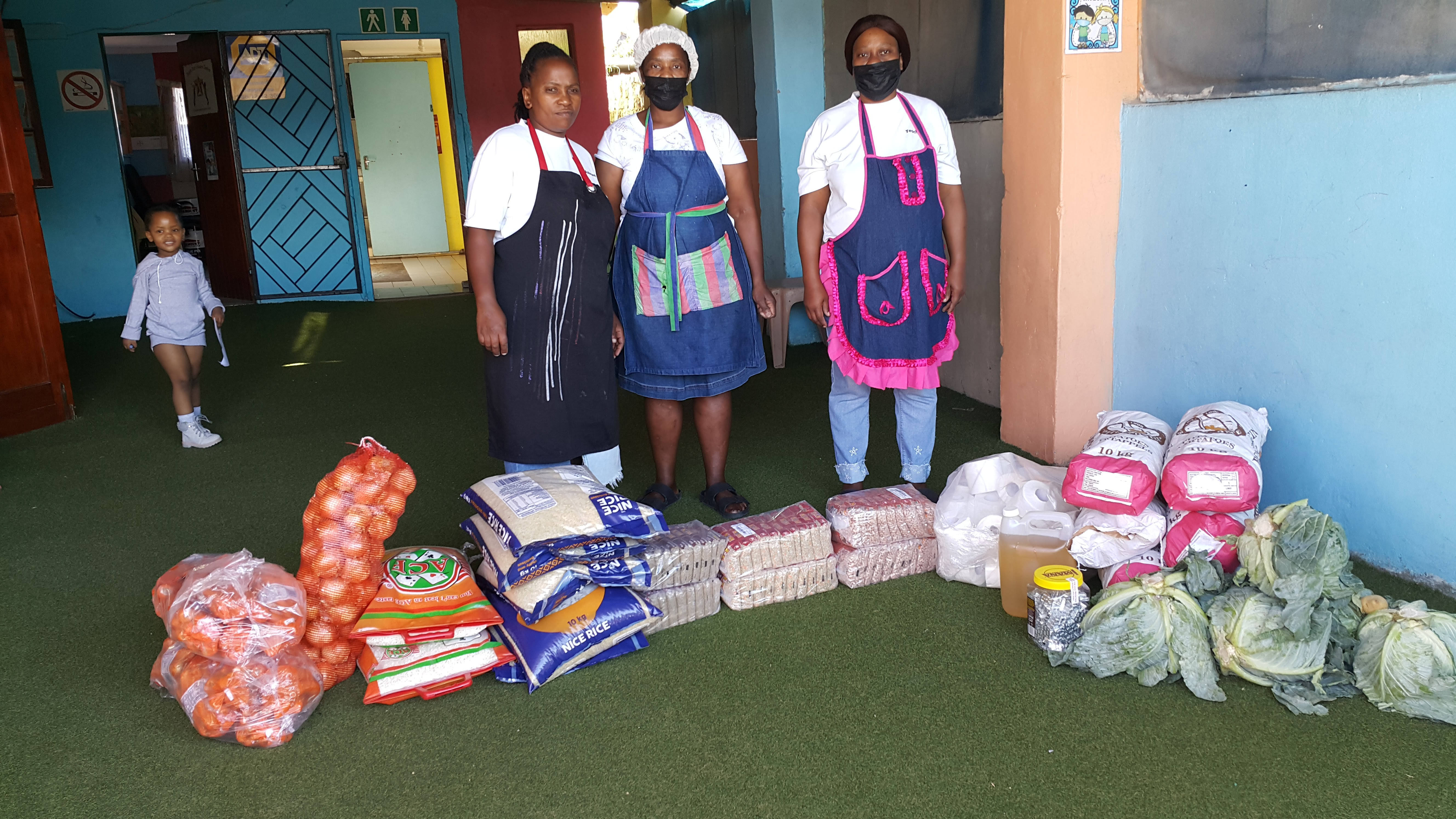 This is part of the precious hardworking staff in Nomzamo that not only care for the children during the day, but also cook for + 300 people that come to the kitchen daily.
And seen here is one of the many bread/pizza bases delivery to the Nomzamo Bright Stars Kitchen!
The photo here, and below, show one of the daily feeding routines in Nomzamo.
Angels Kitchen Sir Lowry's Pass!
The supplies pictured here, and the ones below, are part of the monthly supplies for the Angels' Kitchen in Sir Lowry's Pass.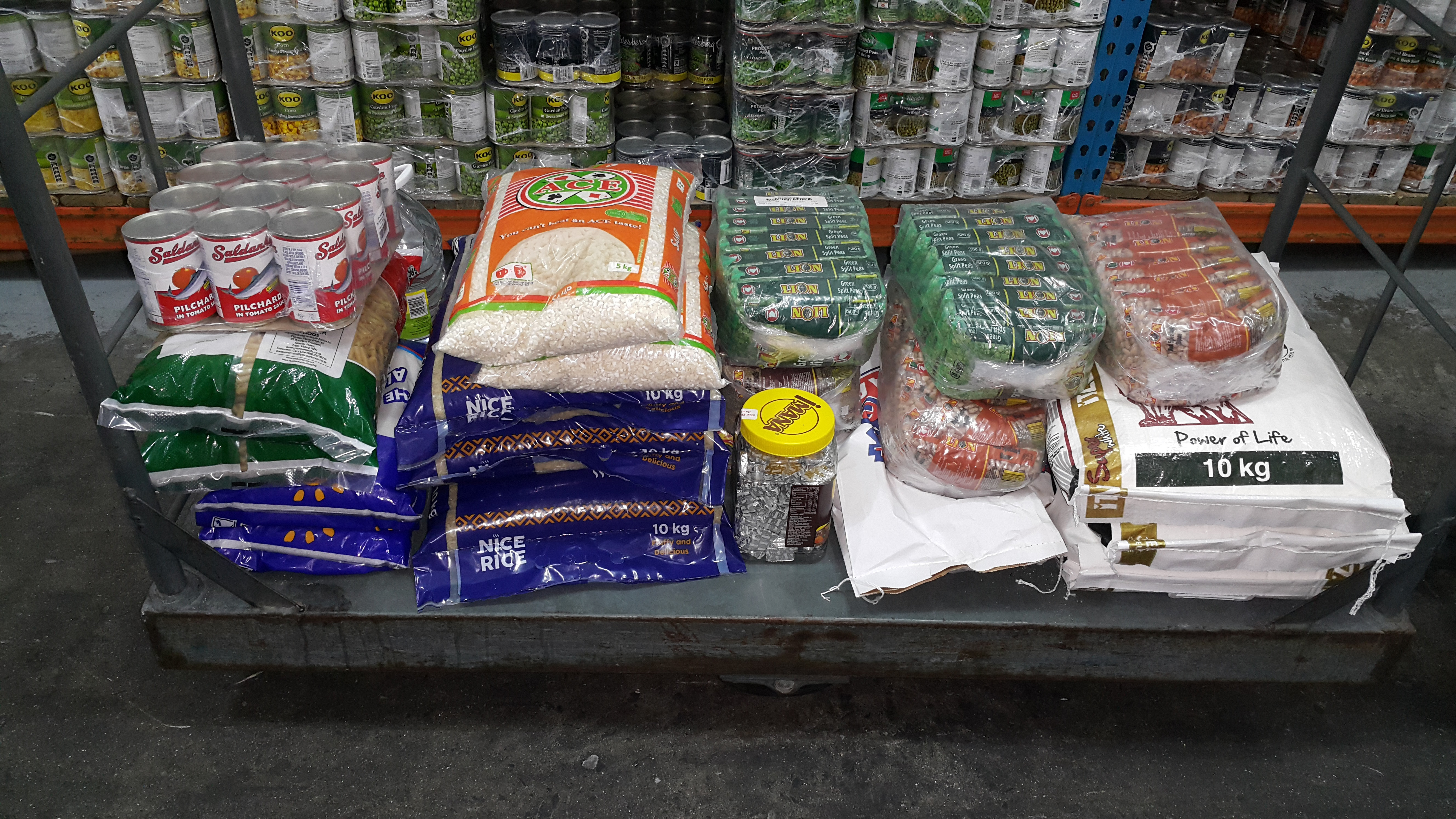 Seen here are some of the ladies that help with the daily cooking. Approx. 80 children are fed here.
One of their weekly pizza bases/bread deliveries.
Children starting to queue up outside the Angels' Kitchen in sir Lowry's Pass.
Here they are waiting patiently to be served.
AMBASSADORS FOR CHRIST:

See here is part of the team that made a big united effort to reach the un-reached in Sir Lowry's Pass. And there will soon be another untied effort to reach the community for Jesus.
Here I, Rita, am seen teaching on "Tongues: The Key to Your Breakthrough!" And about the importance of stirring up our spiritual gifts We are equipped to win, but we must use what we have been given.
In closing we want to once again THANK each and everyone of you who is part of our ministry and enabling us to carry on the ministry. You are in our prayers, and if you have any specific prayer requests that we might be able to help with please do not hesitate to let us know.
With much love and appreciation,
Philip and Rita
CONTACT DETAILS!
PayPal:
force4good.ministries@gmail.com
force4good.fvs@gmail.com or
flame1950@gmail.com



And if you are new to our work and would like to partner with us on a monthly basis or once off we invite you to please contact us for further details. We look forward to hearing from you.