HAPPY NEW YEAR 2022!
Dear partners, friends, family, and loved ones,
We wish you all a very Happy New Year 2022! Thank you for standing by our side all throughout the year that passed, and many previous years as well. We know that all the Lord's plans for us for the new year and onwards are only good (Jer.29:11) and that the way we lay hold of that promise is by faith, by believing. And faith is accessible to all of us through His Word. (Rom. 10:17) We need to consider His promises (Rom. 4:17) rather than our natural circumstances. "Beloved, we pray that you may prosper in all things and be in health, just as your soul prospers" ( 3John 2)
With much love and appreciation for the year that passed,
Philip and Rita
OUR CHRISTMAS SERVICE: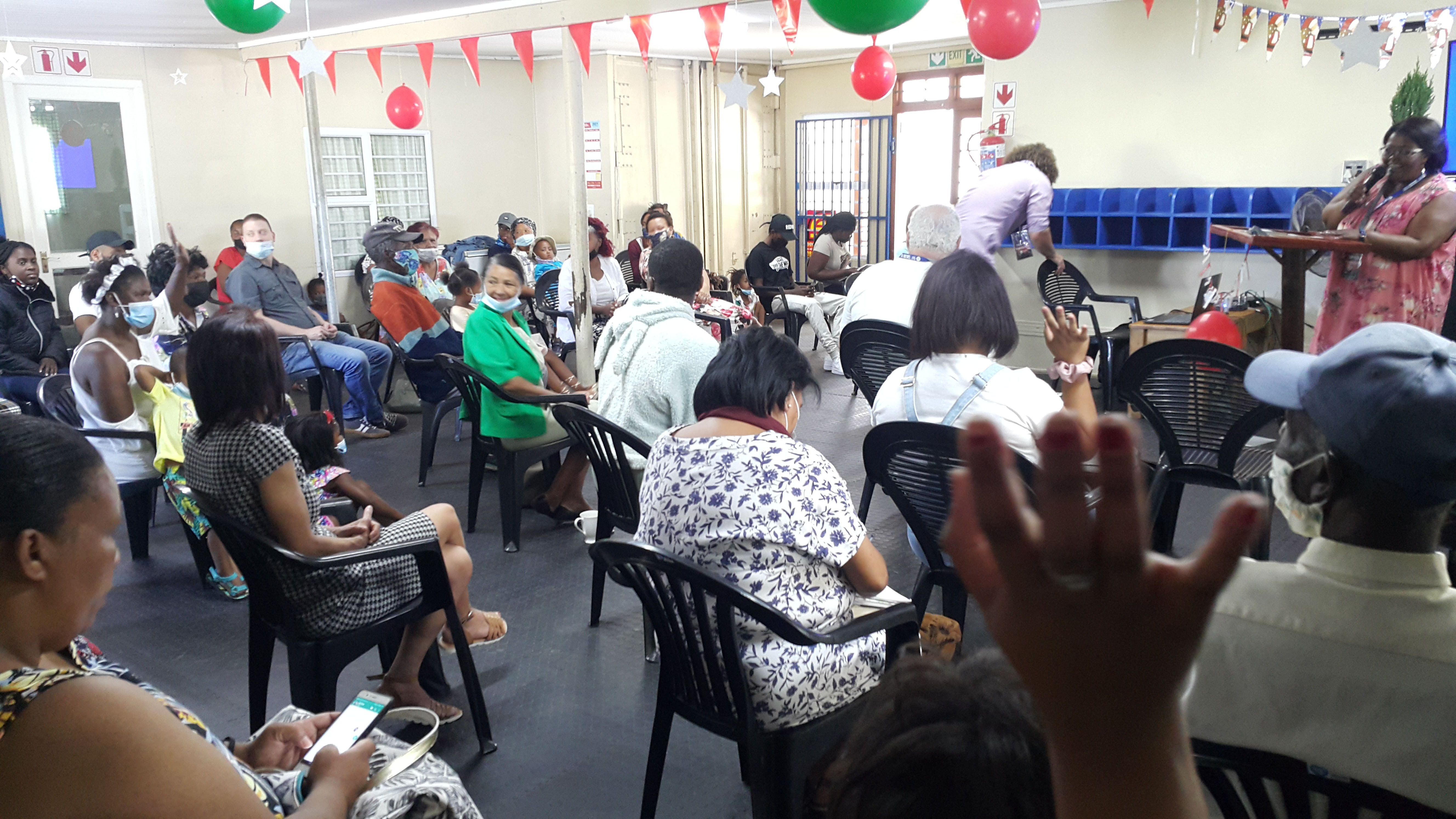 Emily, our campus pastor, led a beautiful Christmas service on the 25th. We had a full house!
The children performed, sang, and wished everyone a very Merry Christmas!
Altogether 50 goodie bags were distributed as well. It worked out beautifully as some grandparents were able to bring some home for their grandchildren that did not attend, thus spreading the joy!
100 hotdogs were provided as well, a favorite for both big and small, along with a nice cool drink for everyone.
A happy grandparent and mother bringing home an unexpected treat for their kids.
We also served home-baked cookies. And whatever was leftover of cookies and hotdogs was taken to the street and distributed to some of the poor people just hanging out there.
LIONS' YEAR-END SOCIAL:

At our year-end social with Lion's club chicken was grilled for a home for seniors, as well as 100 burgers for children, which was distributed in Temperance Town at lunchtime the same day.
While the men were busy grilling we, the ladies, packed the burgers and chips and packed 100 goodie bags for the children at Temperance Town. When all was done and distributed, we ended the event with a delicious meal served for all the members, along with a nice time of fellowship!
On the day of our socials with the Lions' Club, we also received an unexpected contribution of sliced bread. While some went to distributed food, etc in Temperance Town we went to Sir Lowry's Pass to distribute nice fresh bread to some of our food distribution centers located there!
CHRISTMAS CELEBRATION AT MILA'S ANGELS:

As some of you may remember we sent out a Christmas Appeal plea for help to be able to provide a nice Christmas treat for many children in various places—one of them being at Mila's Angels in Sir Lowry's Pass. We are happy to say that with everyone pitching in all our requests were met. Our dear friends A, D and children, entertained and brought gifts (homemade clay and cutters, along with party packs filled with yummy treats. THANK YOU to all of you who contributed to something in some way!
ANGELS' KITCHEN:

The Angels' Kitchen in Sir Lowry's Pass (geared for the children) stayed open till just a few days before Christmas. Seen here is our last shopping for them for the year that passed.
Daily up to 80 children come to this kitchen for a hot meal. At Christmas when not only hot meals, but goodies bags (we bought chips and juice, and the Lions' Club assisted with kids' eggs, caramels, etc
Please notice the box in the photo. Nearly one hundred kids lined up to be blessed on the day the Christmas meal was served, and100 goodies bags were distributed! Thank you for helping to make it possible! We also bought chips and juice to be added to the goodie bags.
JOYCE'S SOUP KITCHEN:

Here we provide a hot meal for approximately 140 families (not individuals) twice weekly. We also help collect and deliver foods from Woolworths on a regular basis and helped them get one more contact this year with Woolies from where they collect several times a week. A BIG THANK YOU TO Woolworths for their support!
The generous bread contribution is received via the Lions' Club on a weekly (and sometimes more) basis! A huge help in feeding many! TY!
BRIGHT STARS KITCHEN NOMZAMO:

We also (through our united efforts) fully support this Kitchen in Nomzamo, which feeds a hot meal to up to 300 people on a daily basis five times a week! Together we are making a difference!
THE LIGHTHOUSE:

The Light House kitchen in Sir Lowry's Pass (also predominantly geared for children) asked for assistance to bless 160 children with special treats. Here we delivered ice-cream and lollipops for their event.
THE FOOD BANK:

We also restocked the Food Bank in Sir Lowry's Pass to ensure (to the best of our ability) that no one would go hungry during the holidays. As seen there was also a nice bags of clothes to be distributed!
TOYS AND SWEETS:

A BIG THANK YOU to the Lions for providing all the toys, caramels, kids' eggs, etc. seen here. These were distributed 5 ways and blessed approximately 500 children! We are blessed to be a blessing!
MILA'S KITCHEN:

Mila's Kitchen feeds hundreds of people on a daily basis and is greatly assisted by our weekly bread contribution. For Christmas we also provided potato chips, juice, and caramels for 150 children!
FORMULA AND NAPPIES:

We again received a generous donation of baby formula and nappies. These supplies were distributed at the clinic in Sir Lowry's Pass. As mentioned in one of our earlier newsletters they are quite restricted by many criteria that must be met for them to hand out the aid from the already established feeding program. However they are often broken hearted when needy mothers come seeking help, but who do not meet all the requirements. With our contribution they are now able to help mothers like these.
When we did our Christmas program at Tom's Little Angels we found that they had adopted a little newborn baby who the mother was unable to care for. In spite of them already being quite needy themselves they took on this added responsibility (and of course enormous blessing). We will seek to assist them with nappies and formula as much as possible (two very expensive items). We are also assisted two other young single mothers with newborns struggling to make ends meet (from Sir Lowry's)
NEW KITCHEN:

In recent months we also upon request started assisting this relatively new kitchen in Sir Lowry's Pass (which does not have a name). We are so grateful for the pizza bases which enable us to do so!
BREAD AND PIZZA BASES:

It is not possible to adequately express the big help and blessing this bread and pizza bases are to so many — in fact we would not even be able to count the many people it feeds. When we arrive for our collection it is usually all hands on deck to help us get loaded up, and often to the brim! We are very thankful and pray that the company, and the Lions may be mightily blessed!
CHRISTMAS SOCIALS:

We also had a year-end social with our precious Life-Group leaders (whom we consider family) in Sir Lowry's Pass. We were able to blessed each one with a gift and voucher for food for them and their families as a small token of our gratefulness for all their labors of love. We also had a at our nice times together packing the 50 goodies bags that were later distributed to them children at the church at our Christmas service.
We were also able to bless our Life Group in Nomazamo during our last meeting and to express our thankfulness for all their labors of love, and hard work they put into not only caring for the many children at their daycare, but also for the many people (as mentioned earlier sometimes up to 300 people a day) that have come to look to, and depend on them for a once a day hot meal. They are untiring and unselfishly serving, and we consider it a privileged to be able to call them, and our precious team in Sir Lowry's Pass, and Gracelife our church family (which by the way also pitched in generously to enable us to meet the needs this Christmas) who live in such a selfless and outward focused way our friends.And in this we also include all of you who help keep our ministry going! We are extremely blessed by these many precious people that the Lord has placed in our lives.
In closing we again want to thank, and to remind everyone that it is you and us, our team, that is making all this possible. It is through our combined efforts that we are able to have a big impact, and bring about changes felt both physically, emotionally, and spiritually. Jesus came to save the whole man, and when we reach out on all fronts we are able to represent His love and care.
We look forward to entering the new year with you, our team, as we continue forward hand in hand with each of you and invaluable friends and partners.
Much love and prayers,
CONTACT DETAILS!
Antonios Michalitsis, FNB, Branch: 200912 Account no. : 62633037082
Rita Olsen, NedBank, Branch Code: 114145 Account no.: 1043639810
PayPal:
force4good.ministries@gmail.com
For those of you that are abroad and would like to contribute please be aware that besides PayPal there is also the SEPA option as we have an account in Europe:
Rita Olsen
Danske Bank
Branch: 1551
Account: 3719943470
IBAN DK28 3000 3719 9434 70
SWIFT: DABADKKK
And if you are new to our work and would like to partner with us on a monthly basis we invite you to please contact us for further details. We look forward to hearing from you.