NEWSLETTER CONTENT:
1-3 Shopping supplies for two kitchens
4-7 S.A. Harvesters
8-11 Bread and pizza-bases
12-17 Nomzamo outreach
18-20 Gracelife Sunday gatherings
21-22 Life-Groups

Fore4Good affiliated with Gordons Bay

Lions club

.
Dear Ones,
Today we would like to start off with a big
THANK YOU
to you, our faithful partners and supporters, who are enabling this ministry to carry on. We are honored to have your backing. Thank you! May the Lord bless you with "treasures where neither moth nor rust destroys and where thieves do not break in and steal." (Matthew 6:19-21)
SHOPPING:
1
In the photo above we are shopping for two kitchens. The trolley with all the rice is for the kitchen in Nomzamo. After going there to do outreach several times, while the people gathered for their only warm meal of the day, we were heartbroken to see time and again that by the time the last ones in the queue got their turn the food would have run out and they were left with some bread only, but nothing warm to fill them. We determined to do something about it and so bought three times the amount of rice that we usually buy. We hope to be able to continue to do so for as long as it is needed so that all may be warmed and filled! We thank those of you who are already contributing towards our feeding scheme.
The second trolley is for the Angels' Kitchen (geared for kids) in Sir Lowry's Pass! We also bought adult nappies for a stroke victim, sugar for a school that requested it, etc.

2


Delivering supplies to the kitchen in Nomzamo. Since their need is so great we encouraged them to apply to Food Forward. Sadly their request was declined as they will need a separate NPO # for the kitchen—the one they have for the Daycare Center is not acceptable. However, once they get that in order they were encouraged to apply again at the end of the year. Please pray they will succeed as it would enable them to provide much more abundantly for the needy.

3


Delivering the shopping to the Angels' Kitchen in Sir Lowry's Pass. As mentioned this kitchen is geared mainly for children.

S.A.HARVESTER:
4


We are very thankful for the help S. A. Harvesters are offering the Lions' Club and thereby us. We were impressed when hearing of their faith and determination to get supplies to the warehouse—which they themselves collect from the farmers. Due to the heavy rains we have had they made several attempted trips that failed, as the roads were closed. They had to seek alternative routes, etc. They also repeatedly tried to meet up with key people that ended up not being available at the expected time. All this to say that a lot goes on behind the scenes and we are impressed with and thankful for the hardworking dedicated and determined team at S.A. Harvesters! And as seen they did manage to provide once again a truckload of wonderful supplies for which we are very thankful
Thank you!

5


Delivering supplies from S.A. Harvesters to the Angels' Kitchen in Sir Lowry's Pass! When there are ample supplies 3-4 kitchens share the supplies brought. Jessica, who runs the kitchen we deliver at, divides the food and then calls them to come and collect from her. The fresh produce is always highly sought after!

6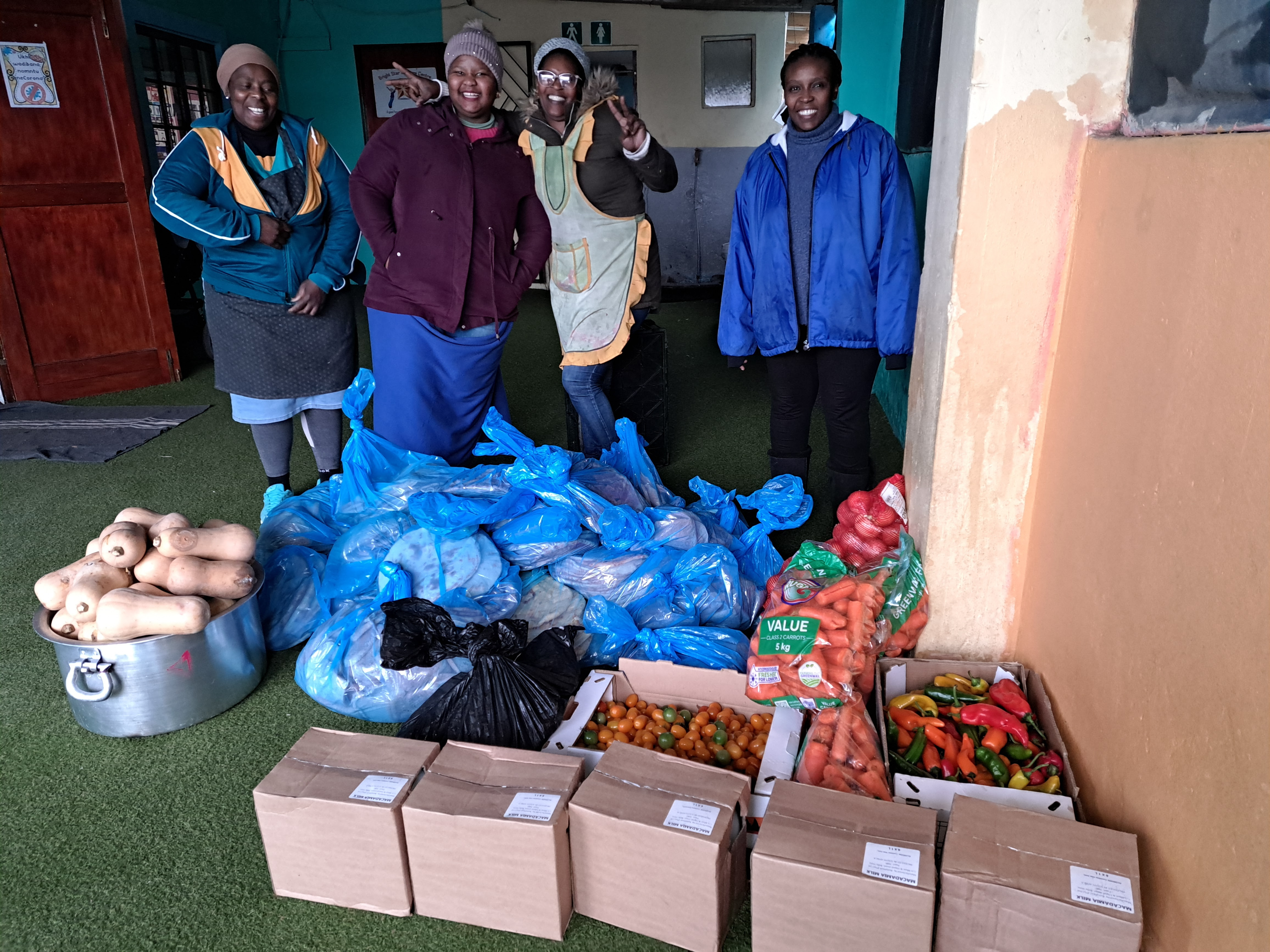 Here we delivered supplies from S.A. Harvesters to Bright Stars' Kitchen in Nomzamo. These are bi-weekly supplies as we rotate between Sir Lowry's Pass and Nomzamo

7


Occasionally we have had enough supplies from S. A. Harvesters to also assist Joyce's Soup Kitchen in Sir Lowry's Pass. This is the biggest kitchen in the village as it feeds more people/families than any other. They also assist stroke victims with food parcels.

BREAD AND PIZZA-BASES:
8


We are very blessed to be able to deliver bread/pizza-bases, and at times croutons or rotis to the various soup kitchens. In Nomzamo, they have time and again run out of soup before all were served, but thankfully they were able to at least give a couple of pizza-bases to the last ones. Please also pray that this of bread and pizza-bases supply will not run dry or diminish as it has saved the day many times.Thank you!

9


Elsie's Soup Kitchen Sir Lowry's Pass!

10


Here pizza-bases, bread and milk (the brown boxes, 5 of them with 6 liters of macadamia nut milk) was delivered. During the school holiday they have up to 80 or more children come to the kitchen for breakfast.

11


Mila's Angels Kitchen, Sir Lowry's Pass! As usual it is not possible to show all the places that are benefiting, but let is suffice to say that the pizza-bases are a tremendous blessing to many, many people!

NOMZAMO OUTREACH:
12


Twice a month we have started to go to Nomzamo when the soup kitchen there opens. We minister to the people for about half an hour or so (from the time they start arriving) till the kitchen opens. Cari and Zoleka, two precious sisters in the Lord from our Gracelife community, have been joining us and have been a big blessing to our efforts there! Many souls have been won to the Lord and encouraged to pursue their relationship with Him. We see a lot of potential for starting a Bible study group there and are praying and looking for a suitable venue where we can meet to minister to those who would like to go further with the Lord! Please pray with us for this!

13


There are many very precious and needy people out there to be reached. By the grace of God we will make a difference to as many as possible!

14


Due to the school holidays there were a lot more kids than usual. Zoleka, who speaks Xhosa, had them all sit down (more than 50) while she ministered to them and led them to the Lord. The kids were very interested and need a lot of input! We had an amazing time!

15


While Zoleka ministered to the children, with the help of some of the staff at the ECD/Kitchen, the rest of us went and ministered to the adults. About 10 adults received the Lord that day. Praise the Lord!

16


The week before this approximately 20 people prayed with us. We seem to have a wide open door of opportunity here. Please pray for the Lord to further open the door so we can begin to help disciple these people and help them get further established in the truth. We would appreciate your prayers for the Lord to lead and guide us so we can take full advantage of the opportunity,

17



GRACELIFE:
18


At our Gracelife church we are presently going through the book of Ephesians. Here I was teaching from Ephesians 2 about our destitute state before salvation and the immeasurable gift of salvation.

19


We had a time of laying hands on the sick. We not only prayed for their physical ailments , but for the healing of broken hearts as well. Praise the Lord for Jesus and the difference He makes. We were also very encouraged to receive testimonies from several church members of how they had encountered a needy person and had laid hands on them and seen them healed. Praise the Lord!

20


During our times of prayer we are always encouraged to tune in to the Lord and possibly receive a word of encouragement and or direction for the body, or perhaps an individual. Here Philip is sharing such a word he received during our united prayer time.

Again time and space fails to tell of the wonderful times we had together i.e. on Fathers' Day we were able to treat all the fathers to a nice chocolate treat and cappuccino. We also attended an all-campus meeting with our Gracelife community, etc. In short it a a great blessing to belong to a local church and if you are looking for one to join we welcome you to join us. You can write us for more information!

LIFE-GROUPS:
21


Here we are with one of our LifeGroups. It is always such a source of inspiration to meet up together. We presently have 3 LifeGroups, and we believe the Lord has a lot more in store for us, Time is short and we need to be equipped and help equip otherS for the days ahead.

22


Our LifeGroup in Nomzamo. Cari and Zoleka have joined us for our early Monday morning classes, and for the outreach there. It is wonderful to see the inspiration they have added. The staff at the ECD/kitchen have also connected with them very well, and we are all working together to make a difference and have an impact on the community there.

In closing we would like to thank each and everyone who is participating in our ministry in one way or another. You are helping make it all possible. More and more we are realizing the strength and fruitfulness of working together as a team. Together we are bringing hope, love and a better quality of life to many, not to mention the gift of everlasting life! Praise the Lord! Thank you for being part of the team.

Much love and appreciation,

Philip and Rita

CONTACT DETAILS!
Antonios Michalitsis, FNB, Branch: 200912 Account no. : 62633037082
Rita Olsen, Nedbank, Branch Code: 114145 Account no.: 1043639810
PayPal: force4good.ministries@gmail.com

For those of you that are abroad and would like to contribute, please be aware that besides PayPal, there is also the SEPA option as we have an account in Europe:
Rita Olsen
Danske Bank
Branch: 1551
Account: 3719943470
IBAN DK28 3000 3719 9434 70
SWIFT: DABADKKK

If you are new to our work and want to partner with us monthly, we invite you to contact us for further details. We look forward to hearing from you.

Fore4Good affiliated with Lions Gordons Bay.