Dear Ones,
Thank you so much for your continued help and support. You are making this work possible.Before we get into our news, we would like for all of us to take a minute to pray for Ukraine. Philip and I worked there for about 5 years, and there are very many precious people who truly love Jesus and need our prayer. And we know that God so loved the WORLD!
Please join with us in prayer for the present conflict in the Ukraine to come to a speedy end; for the protection of the people there; their provision, shelter, etc and that they will not lose heart, that they will know that the Lord has not forsaken them, etc. Also that the missionaries there will be effective in helping many turn to the Lord, that the Lord will give wisdom, lead, guide, provide for, and protect them. That the people there will find their refuge in the Lord, and see supernatural personal deliverance and provision. And let's pray for God's children on both sides, and for godly wisdom and guidance for the world leaders.
______________________________________________________________

With the present 'signs of the times" (See Matthew 24) following one after the other in rapid succession we feel more and more the urgency and compulsion to reach out to the lost and help equip the believers. Daniel 11:32 NKJV says, "Those who do wickedly against the covenant he shall corrupt with flattery; but the people that do know their God shall be strong and carry out great exploits." Do you "know your God" to the point that you are persuaded that you can trust in Him at all times? That He will always have your best interests at heart and will help you in any given situation? DO you know how to lay hold on the promises of God for yourself and others? If you feel uncertain and would like to be better equipped to face life and the many challenges. presently and ahead, please do not hesitate to contact you and we will assist you in your journey with the Lord to the best of our ability!

REACHING OUT IN SIR LOWRY'S PASS VILLAGE:
Reaching out to others should ideally be a lifestyle for all believers, rather than an event. However, we are all in the process of learning and growing, and we are there to help and encourage one another. We, as SLP Gracelife, have now agreed to doing one united outreach on the first Saturday of each month. We met before and after and there was a lot of excitement with everyone sharing about the people that were met and ministered to. Everyone found new courage and determination to do more!


One of the groups busy ministering on the street. A lot of souls were won to the Lord and several showed up the next day.
We also went into peoples' houses. These men discreetly covered their dope before praying to receive the Lord!
LIFE-GROUPS:

Above: One of our early Monday morning Bible study groups (in Nomzamo). We take turns teaching and usually get about half an hour before their day starts. Meanwhile the children play quietly on the floor.
Below: Our Bible study group in SLP. One evening we had a sudden big influx of young people. They came back with more the following week and we were able to lead those who had not yet received the Lord to do so. In fact we had to put a blanket in the floor in order to provide seating for everyone.
Besides the two groups seen here Philip and I also lead another 3 Bible studies during the week with different individuals. We trust that the Lord will increase the attendance of those groups as well.
GRACELIFE: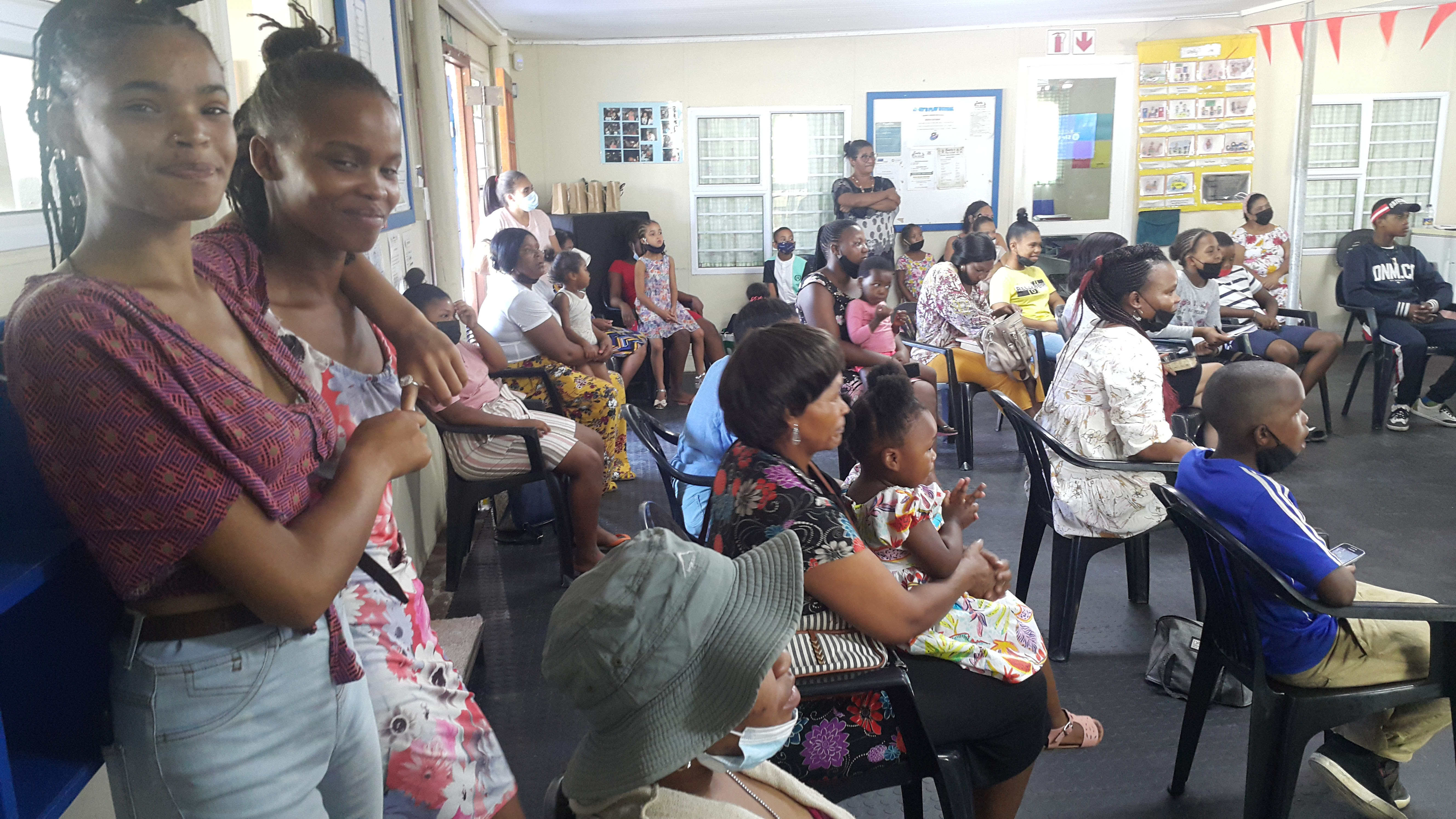 One of our full-house days at Gracelife SLP.
After I, Rita, taught on 'How to be led by the H.S.' many stepped forward for prayer for re-dedication.
Philip praying for the complete healing of this little boy and thanking the Lord for his recovery this far.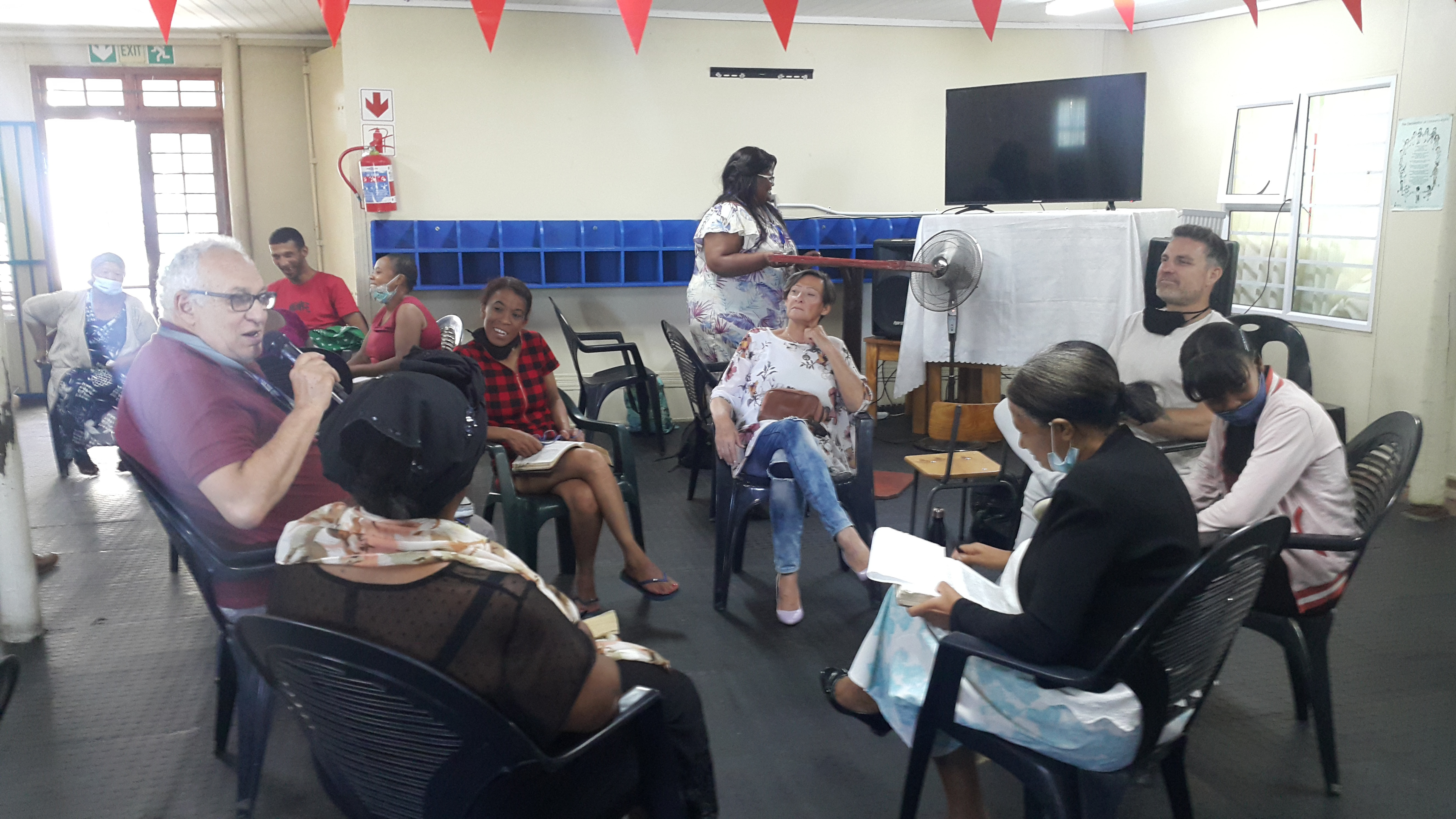 Above: After the service from time to time we divide up into smaller groups for group discussion on the topic shared.
Below: At Kidz' Church the children are learning invaluable life-lessons and application through lots of fun games and quizzes. Join us every Sunday for a fun event!
GRACELIFE GLOBAL FAMILY MEETING:

This month we had an online Global Family meeting led by Shayne our founder and lead pastor. It help us to stay connected and to remember that we are just a small part of the international body of Christ.
FEEDING SCHEMES:
ANGELS' KITCHEN, SIR LOWRY'S PASS:
Angels' Kitchen, Sir Lowry's Pass: Approximately 70-80 children are fed daily from this Soup House!
Many school children come here for breakfast before starting the day. Here they are being served some delicious Weet-Bix, which they greatly enjoy!
BRIGHT STARS, NOMZAMO:
Bright Stars Kitchen, Nomzamo: Here Philip is loading the shopping for the Nomzamo kitchen.
We thank our donors and the Lions for helping us to keep this kitchen going & for the pizza-bases!
This kitchen feeds approximately 300 people a day!
BREAD AND PIZZA BASES:

We want to thank the Lions' Club Gordon's Bay for the regular supply of bread and pizza bases. It is never to be taken for granted when there is a steady flow of supply, but rather let's give thanks and count our wonderful blessings. This amazing supply goes much further than we can possibly express.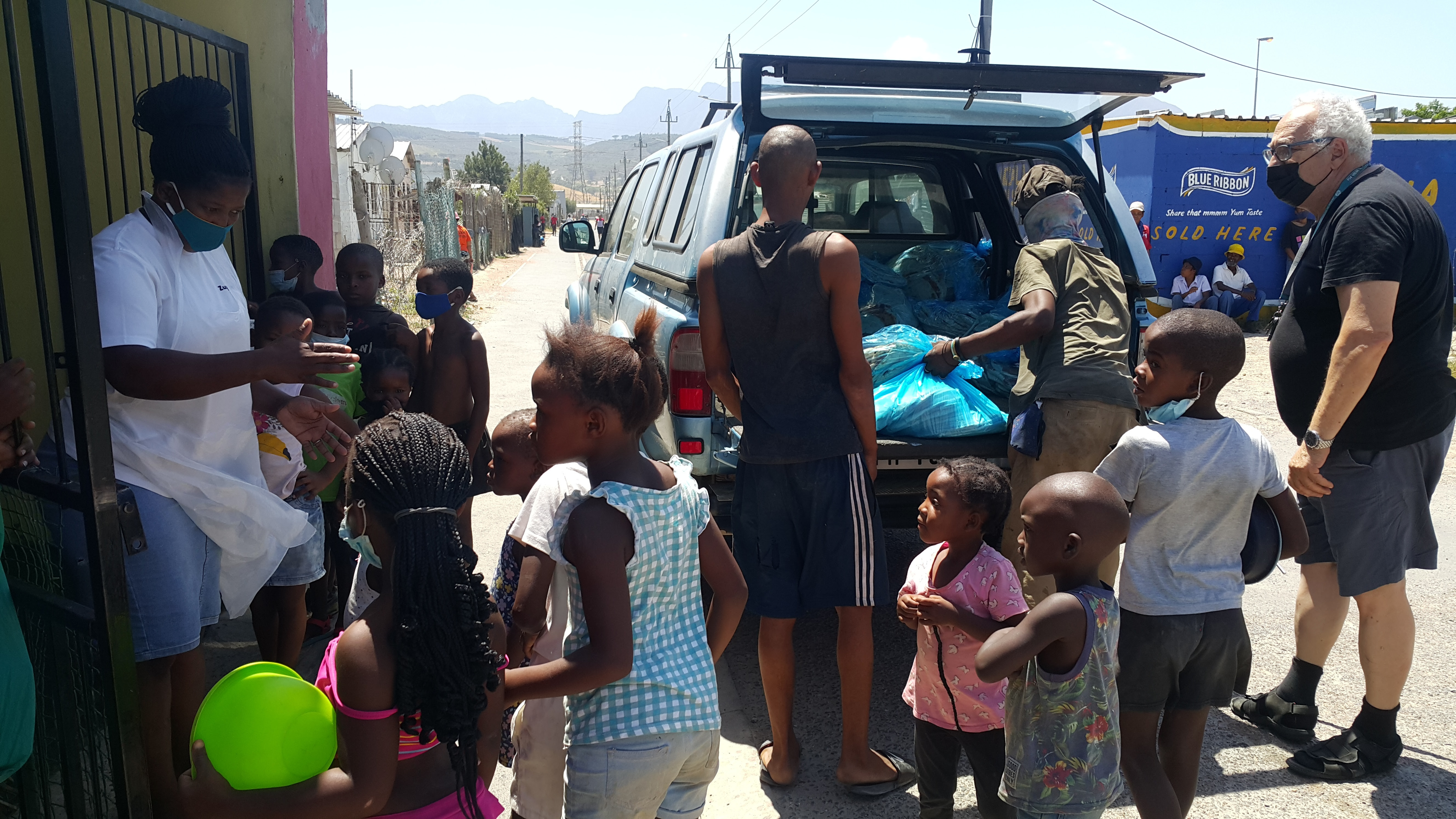 Delivery in Nomzamo. Here they feed approx. 300 people Monday-Friday! May the Lord bless them!
This is a delivery to our Food Bank in Sir Lowry's Pass. We have at least 8 places that on rotational basis receive pizza bases all dependent upon the supply received.
MILA'S AND THE "NEW" KITCHEN:
The Photo here, below and above show the distribution at Mila's Angels' Kitchen as well as at the New Kitchen SLP!
BURGER PATTIES:

This month we also received a lot of burger patties which we distributed to kitchens in SLP!
MILK:

This month we also received a lot of burger patties which we distributed to kitchens in SLP!
Here Philip seized the opportunity to preach the Gospel and lead a handful of precious children to the Lord. The got not only milk, but also the "sincere milk of the Word" to grow by.
Here Philip seized the opportunity to preach the Gospel and lead a handful of precious children to the Lord. The got not only milk, but also the "sincere milk of the Word" to grow by.
WOOLIES:

Philip and I assist Joyce's Soup Kitchen in collecting the supplies donated by Woolies once a week. However they now receive help from Woolies 6 times a week.
OTHER:

We are also happy to report that we received some baby equipment this month: Baby bed, walker, car seat (please see photo below), etc. One of the people we know there had been borrowing a car seat for his young son and was very thankful indeed to receive this.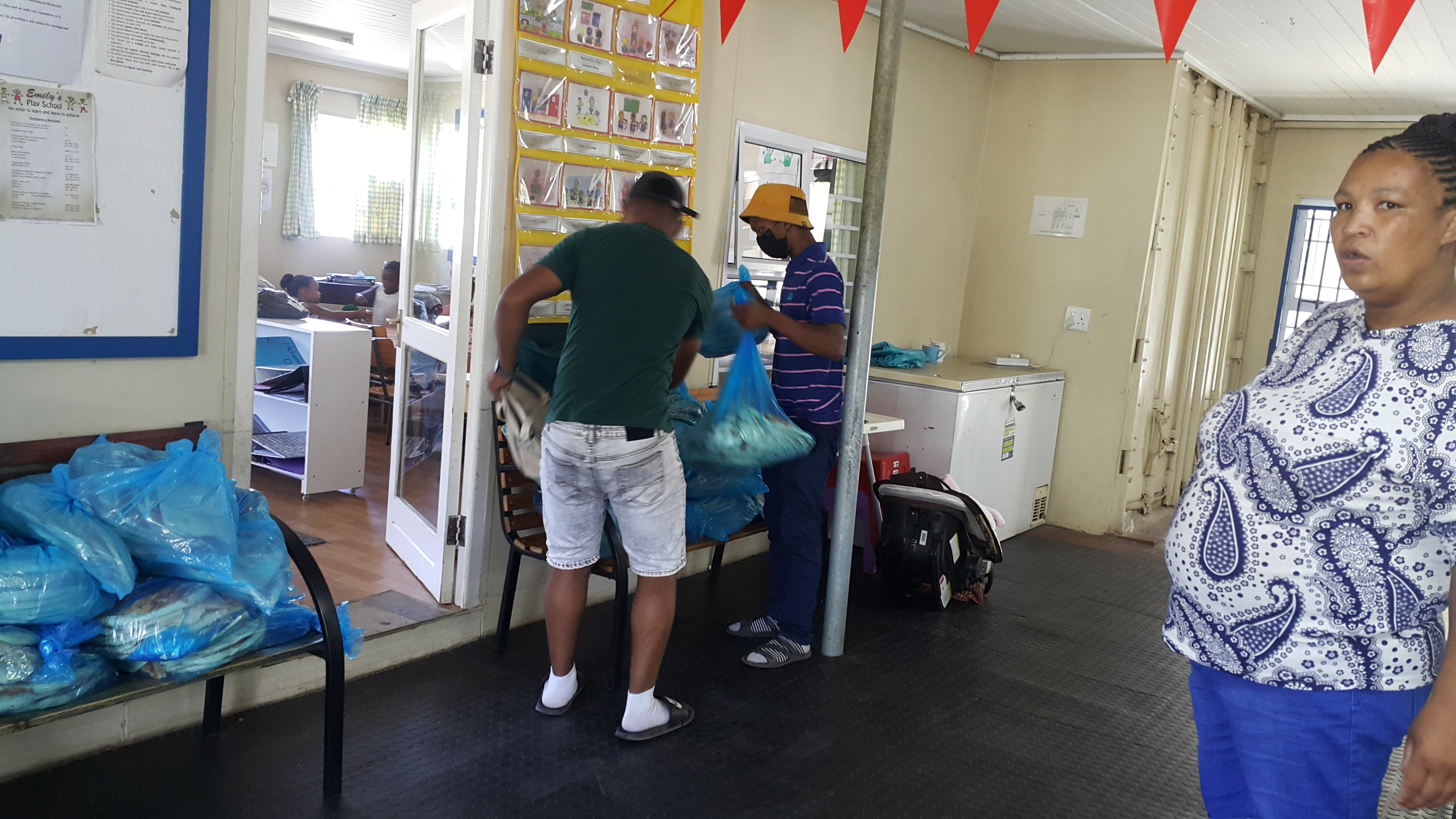 In closing we once again what to express our deep love and appreciation to all those of you who are part of the team. Together we are able to be impactful, not only for the here and now, but also (and maybe even more importantly so) for the there and then! Thank you, and may you all be richly blessed!
With many thanks and much appreciation,
Philip and Rita

For your information and easy reference our contact details are as follows:
CONTACT DETAILS!
Antonios Michalitsis, FNB, Branch: 200912 Account no. : 62633037082
Rita Olsen, NedBank, Branch Code: 114145 Account no.: 1043639810
PayPal:
force4good.ministries@gmail.com
For those of you that are abroad and would like to contribute please be aware that besides PayPal there is also the SEPA option as we have an account in Europe:
Rita Olsen
Danske Bank
Branch: 1551
Account: 3719943470
IBAN DK28 3000 3719 9434 70
SWIFT: DABADKKK
And if you are new to our work and would like to partner with us on a monthly basis we invite you to please contact us for further details. We look forward to hearing from you.