Through the Storm- God,s protection always there

NEWSLETTER CONTENT:
1. September Storm
2. Heritage Day /Gracelife
3. Supplies
4. Shopping
5.Nomzamo Outreach
6. Meetings
7. Vehicle Repairs

SEPTEMBER STORM:


The recent rain storm and subsequent flooding reeked a lot of damage in the Sir Lowry's Pass village. The roads were flooded.For a day or two no traffic could get in or out while the road were being cleared.


Some homes were completely washed away, and other homes sank deep into the sand like the blue house seen in the background here. Over 200 people are presently being house in the community center with no home to return to.



The Angels' Kitchen that feeds approx. 100+ meals to the kids daily was severely damaged as well. Part of the roof was destroyed during the storm.
This kitchen, along with some other smaller kitchens, were asked to take turns to help cook porridge for the many families housed at the community center. And they bravely embraced the task in spite of their own hardships. This means that Jessica, who runs the Angels' Kitchen, needs an additional 5 kg Millie Meal and 1 kg sugar every 4 days (weekends included) which she must provide. While attempting to get the most immediate house repairs done.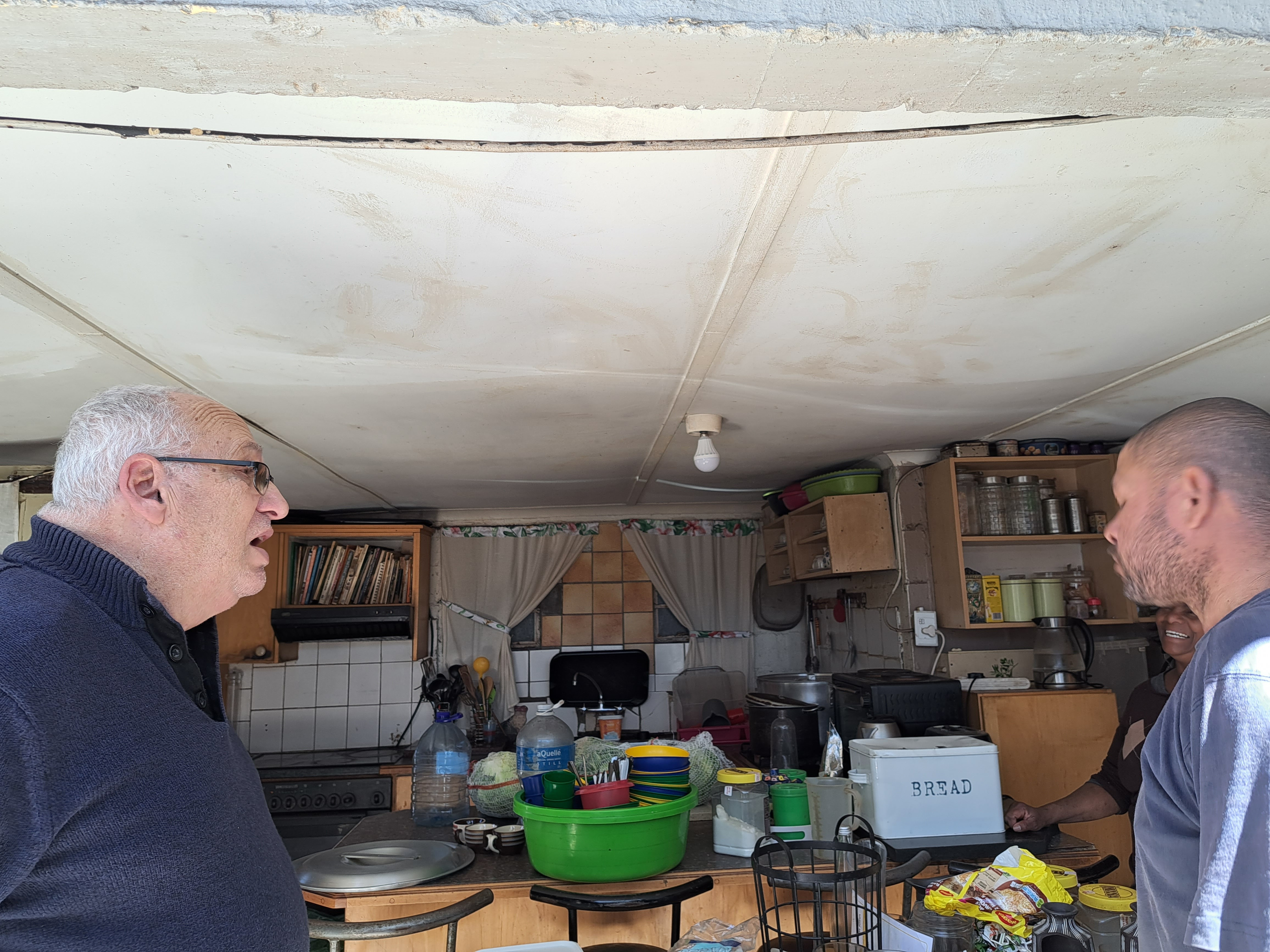 The darker coror of the kitchen ceiling indicates where there is water lying on the boards. The upstairs is also very wet and damp and one room is black with mold.




The school where we hold our weekly church meetings was flooded. Their deep freezer was destroyed due to the flooding and subsequently a lot of food has been lost. Because the water ran in under the floors all the floors were damaged, except for the one that was recently repaired where lots of readymade cement was put down first. The support beams of their jungle gym were washed out from underneath it, the roof leaked and there and basically needs to be replaced as it has been patched up already numerous times, and still leaks!

HERITAGE DAY/GRACELIFE:


The day before the storm hit we unawares of what was about to be, had a beautiful Heritage Day celebration with our Sir Lowry's Pass Gracelife family. We had a wonderful guest speaker and his wife visit.. The message was one of strong encouragement based on 2 Peter 1:1-11.


Afterwards delicious hot-dogs with condiments of your choice were served


And as desert delicious Snax and chocolates were distributed to all and to the great joy of the little ones….but not only! We ALL greatly enjoyed the treats!

SUPPLIES:
S.A.HARVESTER:


We thank the Lions and S.A. Harvester for the generous supplies received weekly! Thank you!

SONNENDAHL MILK:


Every month 100 liters of milk is distributed between Nomzamo and Sir Lowry's Pass Village. A huge THANK YOU goes to Sonnendahl for their generous donation!

CLOTHING:


We thank you all for your support enabling us to also buy some much needed clothes for a young man in Sir Lowry's Pass. We noticed that he would come to church in a think short-sleeved T-Shirt on freezing clod days. We learned that this was one the days when his one warm outfit was in the wash and had not yet dried. One of our precious friends and supporters later provided us with many bags of good quality beautiful clothing. Most was donated to Nomzamo as we have not provided much in the form of clothing to them. However, when sorting through it we found these two warm jackets which fit two very needy people in Sir Lowry's Pass. -- We are sorry as we somehow don't have the photos of the other clothes being donated and distributed.

WEET-BIX:


We collected and distributed 14 large boxes of Weet-bix to Sir Lowry's Pass and Nomzamo.

WOOLWORTH: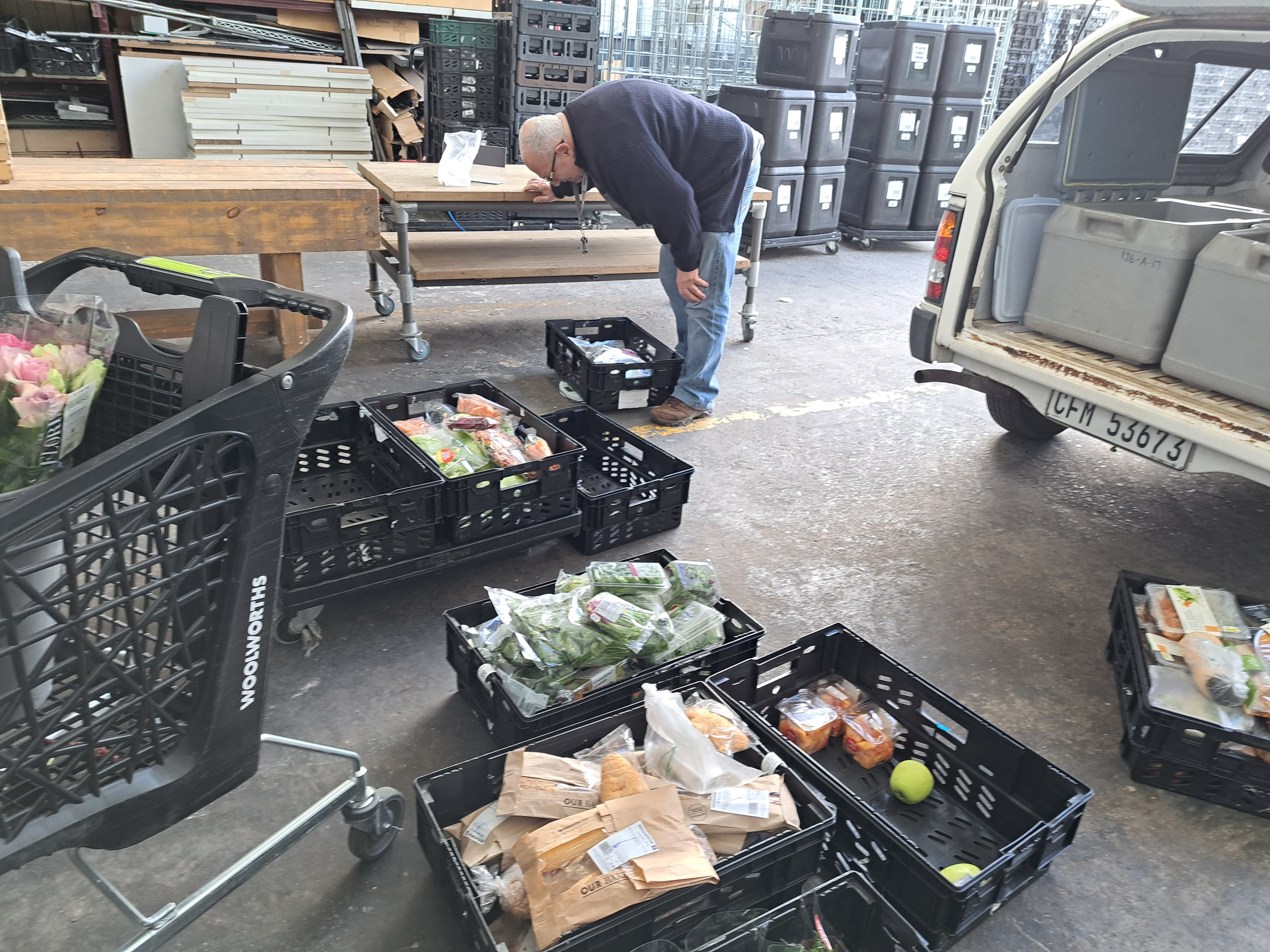 Once a week we assist Joyce's Kitchen in Sir Lory.s Pass village with one of their food pick-ups from Woolworth. As seen here the food must be sorted into categories, weighed and then reported to Food-Share. Here Philip is seen weighing on the of the crates!

FLOOR MAT:


With the donation of clothing mentioned above we also received a lovely floor mat. All throughout the winter the children would sit directly on the cold tiled floor. We are so happy to see them now sitting on the floor mat protecting them from the cold.

PIZZA BASES/BREAD:


We thank Lions for their weekly contribution of pizz bases ans bread. It has become a very treasured contribution and welcome addition to the hot soups being served.



SHOPPING:



ANGELS' KITCHEN, SIR LOWRY'S PASS:
BRIGHT STARS, NOMZAMO:
BRIGHT STARS, NOMZAMO:
FEEDING PHYSICALLY:

AND FEEDING SPIRITUALLY:


We realize what a privilege it is to be able to reach out to others. We are not always as available as we would like to be and therefore treasure the opportunities we get even more. We were also touched when our friend (in the wheelchair) testified of how the Lord had miraculously saved him and his wife when a vehicle drove right into their house. He and his wife were jolted completely out of the bed, their wardrobe was destroyed, and their shack rendered unusable. Miraculously they both escaped without any injuries! And the landlord had another place available right away that they are now staying in while their place is being repaired.

LIFE-GROUPS AND OTHER MEETINGS:


Here we are teaching our Monday morning group. Besides that we have a Bible study group in Gordon's Bay on Tuesdays and another early group in Somerset West on Thursday. We are happy to report that our groups are increasing in attendants and that our Whats App ministry where we share daily Word is also growing. It is a blessing and privilege to minister to others and to be part of the team establishing the kingdom of God in the hearts of others.

CAMPUS MEETING: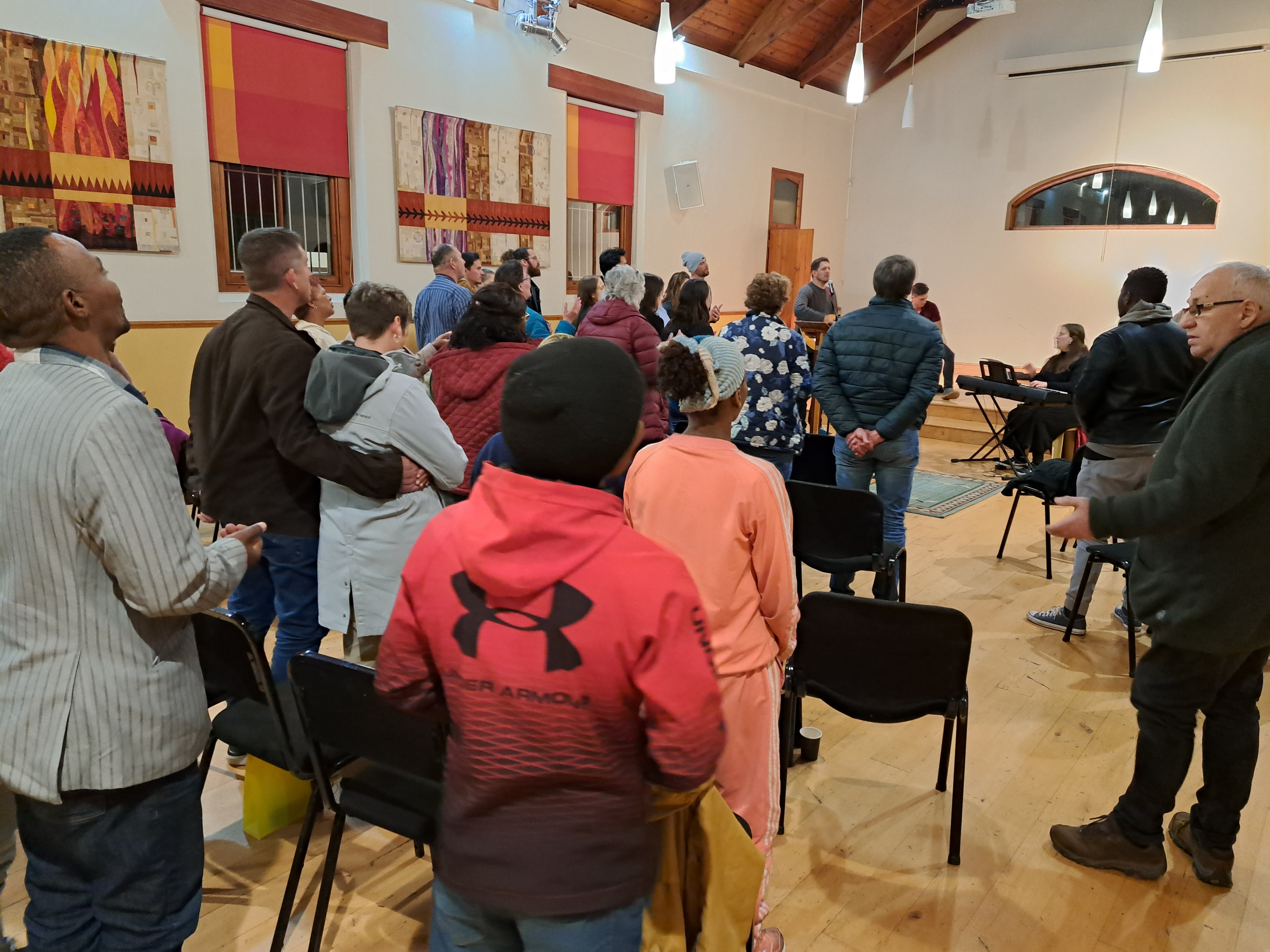 CHARIS BIBLE COLLEGE HEALING NIGHTS:
LIONS' MEETING:

This month we have sought to condense our news for you. There is a lot more that could be said about each topic (i.e. we have 3 Life-Groups, more people are joining, etc. , how much milk, how many boxes of Weet-Bix etc. were distributed and where. But for those of you who have been following us for a while already know these details. If however, you would like further clarification on any topic, please don't hesitate to let us know let us know.



CAR REPAIRS:


This month the prop shaft of our vehicle had to be repaired. We are thankful to mention that we also were able to get the "smash and grab" prevention on all the windows of the Toyota bakkie. After our incident in Nomzamo we felt the need for this.

IN CLOSING:
We want to send a big THANK YOU to you, our precious partners and supporters. Without you we would not be able to do the ministry and keep it going. We are a great team and through our united efforts lives are being saved, people are being fed and the kingdom of God is being established on earth in the hearts of men.
Meanwhile we are continuing to hone our skills to this end as we enrolled in the Gracelife Ministry School at the beginning of the course. Our aim is to be able to do our best for Jesus in service of Him and mankind. And by His wonderful grace (we and you our team and instructors) are bringing forth fruit unto God. An everlasting rewards await each and everyone who sows into the kingdom of God. May you all be forever blessed.

With much love and deep appreciation of your support and partnership,
Philip and Rita

For your convenience our details re as follows:

Email:

force4good.fvs@gmail.com
Antonios Michalitsis, FNB, Branch: 200912 Account no. : 62633037082

PayPal:

force4good.ministries@gmail.com